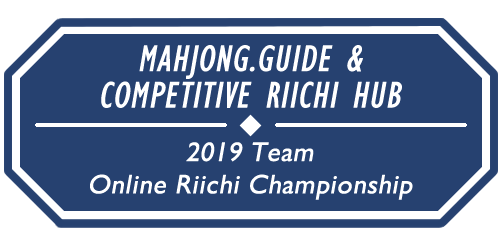 The Competitive Riichi Hub and mahjong.guide are proud to present the 2019 Team Online Riichi Championship!
Schedule
Deadline for Registration: Sunday 30th June, 23:59 UTC
First Round & Quarter Finals: Saturday 6th July, 07:00 EDT | 11:00 UTC | 19:00 SGT
Semi Finals & Final: Saturday 13th July, 07:00 EDT | 11:00 UTC | 19:00 SGT
Team Information
Teams must consist of at least three registered players, with up to five additional players that can be registered as subs in case of scheduling conflicts.
Teams must nominate a captain. The captain will be responsible for communicating with organisers on behalf of the team, and for submitting the player list and playing order for each round.
Players who would like to participate but do not have a team may register their interest to be placed on a public list of available players. Responsibility is still placed on players to organise teams amongst themselves – the tournament organisers will not form teams from interested players.
General Information
How to Register: Registration is via completing this form.
For registration to be verified, captains must also join the Discord server and post in #tournament to confirm their participation. This is to enable easier contacting of players.
Tenhou.net Tournament Lobby: https://tenhou.net/0/?C10312298
Tournament Discord Server: #tournament on CRH Discord
List of Participants, Tournament Brackets & Live Results: Here
Prizes
1st Place: 3 months Tenhou premium for each team member
2nd Place: 1 month Tenhou premium for each team member

Format
All games will be played in a Championship Lobby on Tenhou.net.
Round Format
For each round, four teams will play each other in three consecutive hanchan. The final scores from hanchan 1 are carried over into the start of hanchan 2, and likewise from hanchan 2 to hanchan 3. At the end of hanchan 3, the top two teams will advance to the next round.
At least 1 hour before each round, the captain must announce the three players who will represent their team for the three hanchan, and the order in which they will play. This order cannot be changed once the game starts. A player may not play more than once for a team within the same round.
Championship Format
Teams will not be seeded for this event based on any criteria. The tournament bracket will be drawn on close of registration, with teams allocated a random seed ID for the tournament. For each round the top two teams advance, and the bottom two are eliminated.
For 16 teams or fewer, the tournament will consist of three rounds, with the final running for six hanchan (2+2+2) instead of three.
For 17 to 32 teams, the tournament will consist of four rounds.
In cases where the number of teams does not completely fill a bracket (e.g. numbers other than 4, 8, 16, 32) then some teams will receive automatic byes through to later stages of the championship.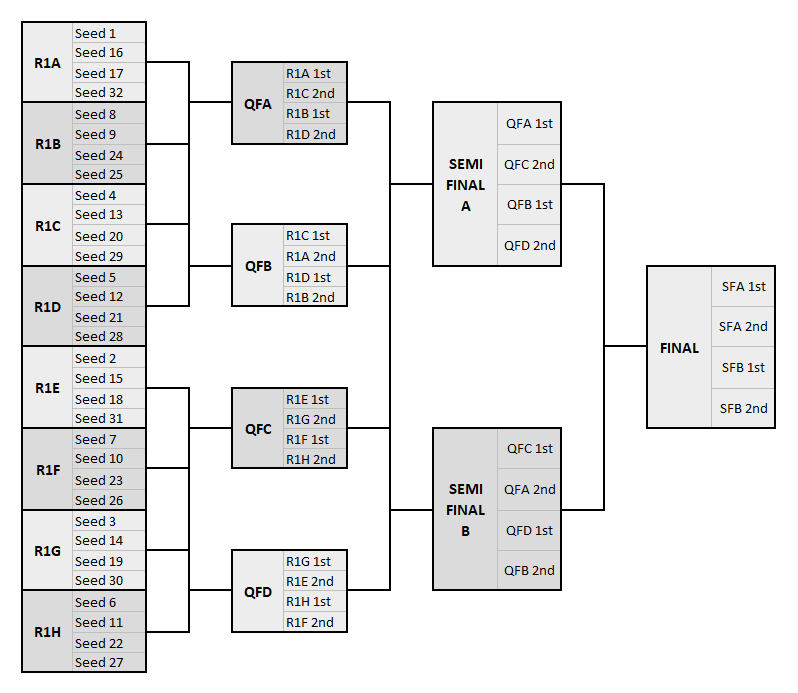 Tournament Rules
Tournament rules are based on WRC rules, but red fives and abortive draws are used, busting is possible, and games have no time limit:
Red fives are used
Teams start on 100,000 points for the first hanchan, with points carrying over for each subsequent hanchan
The game will end if a player drops below 0 points
4 han with 30 fu (7700 or 11600), or 3 han with 60 fu, is rounded up to mangan
South 4 round will only end when dealership passes as it would in any other round (i.e. no agariyame)
Open tanyao is allowed
In case of double or triple ron, the next player in turn order from the discarder is the only player who wins (headbump)
13 han and above is a counted yakuman, and double yakuman are possible [this is not the case in WRC rules, but cannot be changed on Tenhou]
Abortive draws for 9 unique terminals/honours in starting hand, same wind tile as the first 4 discards, 4 kans, and 4 riichi.
Players may only be registered for one team and each team must be represented by three different players each round. Any participants and associated teams found using multiple accounts to bypass these rules will be disqualified and banned from all future tournaments.
Players who fail to show up for tournament matches without providing greater than 48 hours notice, or who leave during the event, will receive a ban from participating in the next two tournaments. This ban will be discretionary and mitigating circumstances may be taken into consideration.
Players must represent their team at least once in order to be eligible for a prize.
Tenhou.net
All games are to be played online on Tenhou.net. For those who are unfamiliar with the interface and do not speak Japanese, there is an English translation add-on for Chrome or Firefox, links to which can be found here. Instructions and assistance on how to create an account can be found here or on various English Tenhou guides available online, or in the first chapter of Riichi Book 1.
Games will be played in a Championship lobby. For those who are not familiar with Tenhou Championship lobbies, all that is required from you as a player is to be present in the correct lobby at the designated start time. Games will start automatically for you when initiated by the tournament organiser. Note that spectating another game or replay does not count as being in the lobby.