Tournament Report – LAPOM Championship 2017
Hi, I'm Anthony / totoro on Osamuko discord – I was going to visit the US on vacation and when I found out about the LAPOM championships and couldn't resist the chance to change my itinerary and play!
Currently in Sydney we have a small group of riichi players – we're meeting up roughly once a month on average so this was a really good chance to meet new players as well as play in a different format (there are definitely subtle differences in strategy playing in a tournament format). In addition, this was a good chance to play more WRC rules in preparation for the WRC later this year – I've definitely had more experience with tenhou rules. In my opinion there are some big differences in strategy playing with/without aka-dora.
Pre-Tournament
Unfortunately, I was visiting LA at a time when they were experiencing the worst storms in last few years. My flight from Vegas -> LA got cancelled on the morning before the tournament and rather than taking the risk I decided to switch to bus which all up probably took me about 7 hours to get to my hotel in LA.
Saturday morning I arrived pretty early at around 10am (I was staying ~10mins walk from LAPOM) and promptly registered. I met Frenetic and Masa-san for the first time – they had heard about me from Muller as the random guy who was visiting from Australia and so it was great to see them. As part of registration we picked a tile out which represented a random player – the initial 6 hanchan seating was pre-arranged such that you never met the same player twice and your opponents were determined by which tile you picked out. They also prearranged it so that everyone got i think 2 hanchan on the REXX autotables (which were fantastic tables by the way – huge shoutout to PML for having 2 available for the tournament)
Day 1
On day 1 we were going to play 5 out of 6 hanchan before top 8 cutoff (out of 28 players) – it is hard to know how many points you were going to need to qualify for top 8 but the initial game plan was to definitely avoid last – and if coming first push hard to add points because with the flatter uma (+15 +5 -5 -15) there was more emphasis on your scores not simply placing. Another thing which was important – even with autotables we had to play reasonably fast because we had 70min time limit on each hanchan. I can say that there weren't any issues with slow play in the tournament but it was still possible to not finish within the time limit after a few renchan (That happened to me probably twice from memory)
Hanchan 1:
I barely escaped with first on this one – finished on 43.5k (starting is 30k) but nearly fell to 2nd as dealer hit haneman in oorasu and got back to about 40k I think. Being the first hanchan I did notice that some of the players were not totally familiar with the ruleset (normal LAPOM rules do use aka dora) and also possibly some players did not adjust to the tournament format – I think when I first sat down I dealt into 2 cheap hands which were dama but I feel like being so early in the tournament (and in the hanchan) it would have been better to try and riichi to try and hit mangan. That was definitely my approach for most of the tournament – with any decent wait I was always looking to riichi unless it was dama mangan or I wanted to secure placing in oorasu.
Hanchan 2:
This hanchan was ugly – so going into oorasu I was in lead ~44k, 2nd was 41k and 3rd was 30k but the person who got 3rd pulled out a baiman ippatsu tsumo on a tanki wait and because i was dealer it sent me from 1st -> 3rd which cost me 280 points all up (uma change was 20k plus 8k for the hand – points were denominated such that 280 = 28k) – given the final scores that was a huge swing and I knew it at the time but luckily it was still early in the tournament so there was time to fix – position wise I only fell down to about 9th
Hanchan 3:
This one had another interesting oorasu situation – once again i'm dealer and barely in 2nd and ended up pushing against the guy on 3rd who overtook me with direct hit – swing this time was about 13k (10k uma + 3k direct hit) although I don't feel as bad about this one as I was tenpai this time as dealer with a decent wait (open hand though so no riichi) and I thought it was a good chance to gamble.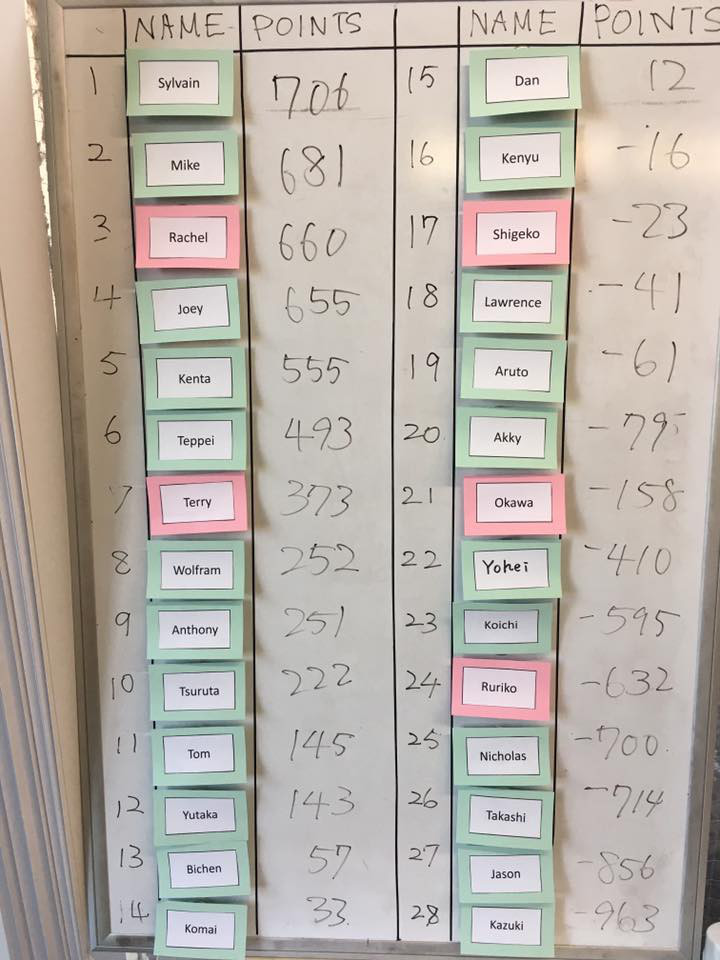 Hanchan 4:
Don't remember anything specific about this hanchan but i got 2nd below 30k so my score didn't really change.
After that hanchan I was sitting at about 11th with about 280ish points (pretty much same score as after hanchan 1) – first was around 800 from memory and 8th was i think ~370. It was hard to project top 8 scores at that point but I knew that I needed minimum one 1st out of the last 2 hanchan and definitely no 4ths
Hanchan 5:
This hanchan started badly – there were at least 2 dealer mangan tsumos and at some point I was down to about 16k points which was really bad for my top 8 chances. Then by some miracle I got to dealer and went on a rampage – I think there was honba 5 at some point and I got up to 50k before we ran out of time. This hanchan we only got up to S1 in 70 mins because of all renchan hands which was unfortunate because I wanted to continue to score more points on my next dealer round but I was still pretty happy to get the 1st I needed and finished the day 6th on 655 about 160 points away from 8th. I was pretty tired at this point so I decided to skip the big group Korean BBQ dinner and went back to sleep for the next day.
Day 2:
Hanchan 6:
So at this point I estimated that getting 1st or 2nd was enough to qualify – maybe 3rd if i was close to 30k points so I wanted to avoid taking too many risks at this point. The hanchan was going fine until I was dealer tenpai on yakuhai dora 2 when I managed to deal in to dama honitsu mangan which sent me pretty much to last. This is where i got really really lucky – next hand as dealer against a riichi I got to tenpai with pinfu sanshoku but no dora – given the point situation I decide to riichi and got ippatsu dealt into me to get me close to 1st again. From here with a few tenpai payments I managed to secure 1st and guarantee top 8.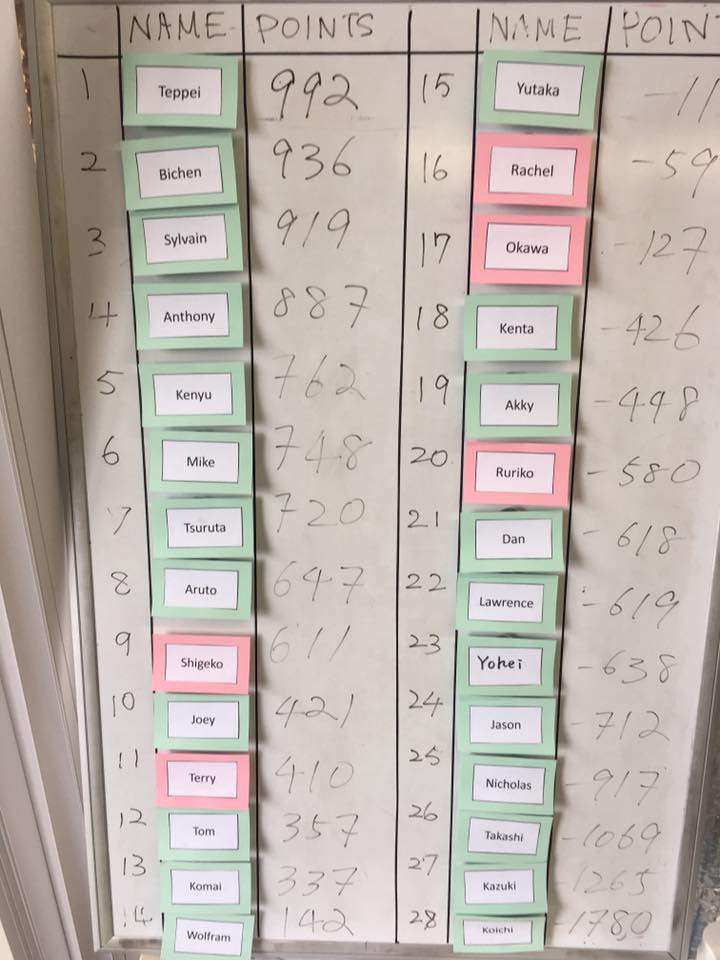 Hanchan 7 (top 8 semi):
At this point I was 4th on about 890 points 1st was about 1000 but I had a decent lead over 5-8th. It wasn't clear before this but our points did carry over to the semifinals and top 4 of remaining field (rather than top 2 at each table) qualified for the finals. This was rather interesting. This actually changed the strategy significantly for the finals because I had such a big lead over the lower 2 players at my table they were at a big disadvantage. I got 1st on this table regardless but only through a very very lucky hand vs Teppei-san where I discarded the wrong tile, drew back into a nice 3 sided chinitsu wait as dealer and hit him as dealer for 12k. From there I played very passively and defended until S4 where I got very lucky again as I pushed hard with yakuhai only to try and end the hanchan and ended up tsumo with furiten 3 sided wait (little did I know that someone had a hidden kan which took out 4 of my tiles)
Hanchan 8 (final):
We had a 1hr break while everyone played their last hanchan before we had the room set up with webcams to try and film the final. We got up to the point where we were able to stream the final to the other room where everyone else was watching (with 5 cameras – one for each hand and one facing down to see all discards) but it was unfortunate that we could not record the whole video because I would have loved to do some commentary from my perspective.
The seat draw was not very kind for me – Teppei-san was on my left for the 3rd hanchan this tournament which I thought was a disadvantage because he had seen me play so much. The finals started pretty tight – everyone was defending very well. I think there was one questionable reach by Tsuruta-san where he had a really weak kanchan wait on turn 5 riichi – he scared everyone with the riichi but given the point situation there was probably more time for him to try and improve the strength of his hand before pushing. At one point I was in the lead – I got dealt a crazy good honitsu hand with dora and opened it up quickly – got to tenpai turn 6 roughly and managed to self draw for mangan 8k. However from there I couldn't win another hand and eventually Teppei-san pulled out some big tsumos particularly S3 where he got haitei tsumo mangan which gave him a 21k lead going into oorasu.
From my perspective I only wanted to come 1st so going into last hand I had to break apart my hand to try and somehow aim for baiman+ to catch up to 1st. I got a closed kan off and had dora 3 but could never get to tenpai because I butchered my hand early when I was trying to force honitsu and eventually had to bail vs another riichi to secure 2nd place for the tournament.
It was unfortunate that I could not close out the tournament but honestly I got very lucky in a few spots (there is always luck required in these tournaments) and Teppei-san was a deserving winner. He played exceptionally in all the hanchan which I played with him and it was a struggle trying to win against him.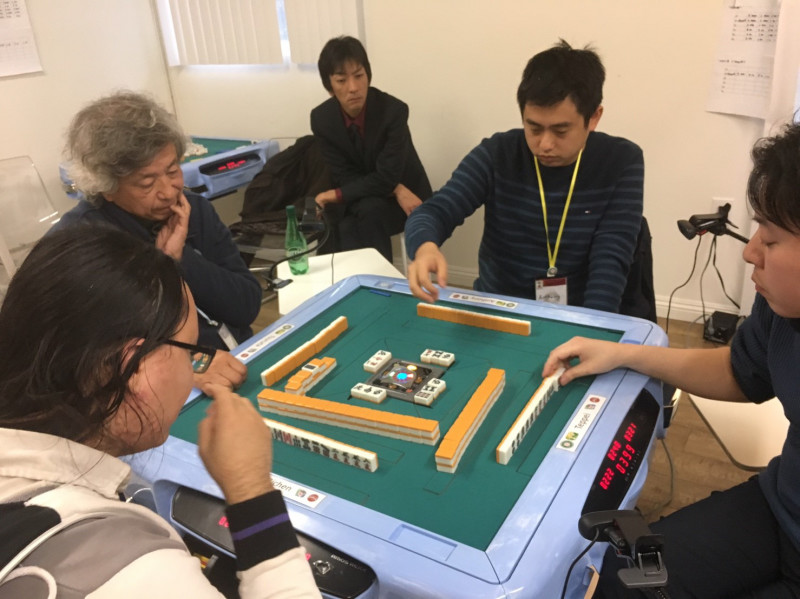 Post Tournament / Free Play:
I joined all the players and staff for Sushi at dinner and it was really great chatting to so many people (at that point everyone knew who I was – but for some reason everyone asked if I was from New Zealand at the start….). Next day I went for the free play session and ended up playing from 11am to 8:30pm so I could play all the staff and anyone who didn't play with me in the tournament. My results in free play weren't as good as the tournament results and I made heaps of mistakes when people were watching me play maybe more so towards the end – at the end I had to rush in an Uber to get to LAX to catch my 10:30pm flight back to Sydney. The last hanchan I played ended up being a grand final rematch – this was slightly embarassing because I was winning and then managed to deal into mangan in S3 being too greedy as dealer and discarding dora late in the round and then S4 dealing into dealer ippatsu because I was tenpai with a chance to win the hanchan back :(. Going from 1st to 4th in the last hanchan with everyone watching was a bit unfortunate but sometimes it only takes a mistake or two to ruin a hanchan.
Overall this was a really enjoyable experience. Huge shoutout to the LAPOM staff, PML staff and all the tournament players for making my trip so memorable. I would love to come back to play again sometime  and hope to see everyone again soon (October for WRC??)
Ps, I borrowed a few pics from the LAPOM blog, please have a visit:
http://ameblo.jp/laponmahjong/
Also they uploaded a nice video with pictures from the tournament: