Mahjong.Guide Quick-Fire Tournament League
The more eagle-eyed people following this website might have noticed that for the last week or two there's been an extra section on the menu bar labelled 'Tournaments' with some content. For those who haven't, and just follow the main page, then this is a post to bring your attention to it!
For more detailed info on the tournament series, starting April 1st, check out the details page here.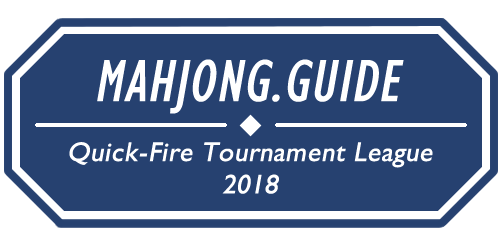 The quick-fire tournaments were a concept I tried out last year and ran with some success before life events got in the way. Now that I'm done with weddings, attending WRC, and moving house, I'm reviving them with a few tweaks to the format.
The basic aim for the quick-fire tournaments is for them to be easy to attend, and for them to be a bit of friendly competition without requiring a large time commitment. Tournaments are every two weeks, and each one is intended to last three hours or so. Tournaments are three hanchan for each participant, with the top four places after those three rounds going to a winner-takes-all final. Points are awarded for placement in each tournament, which are aggregated over the 15 events into a final overall ranking.
We hope to see you competing!